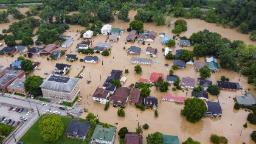 etucky Gov. Andy Beshear told CNN on Wednesday that 15 people have died due to flooding in the eastern part of his state, and that number is expected to double.
He said the toll includes children.
"There's going to be multiple families that we've lost," Beshear told CNN's Brianna Keilar. "Kids that won't get the opportunity to grow up and experience so much that we have."
"This is so deadly, and it hit so hard, and it hit in the middle of the night," the governor said, adding that although eastern Kentucky often floods, "we've never seen something like this."
Beshear said that hundreds of Kentuckians have lost everything they have. 
He said that homes were "completely swept away in the middle of the night possibly while they were sleeping."
Rescuers are still unable to get to people who are trapped due to roads being washed out and covered in water, he added.
"There's so much water, the current is so strong, it's not safe for some of the water rescues that we need to do," he said. 
Search-and-rescue efforts will continue today and into tomorrow, Beshear said. 
The National Guard from multiple states is assisting rescue efforts. According to the governor, 50 aerial rescues and hundreds of boat rescues have been made. 
"I know we're strong. I know we'll band together. In Kentucky, we open our homes and our hearts to each other, and that's what we're doing right now," he said. 
Beshear said it could take a year to rebuild.